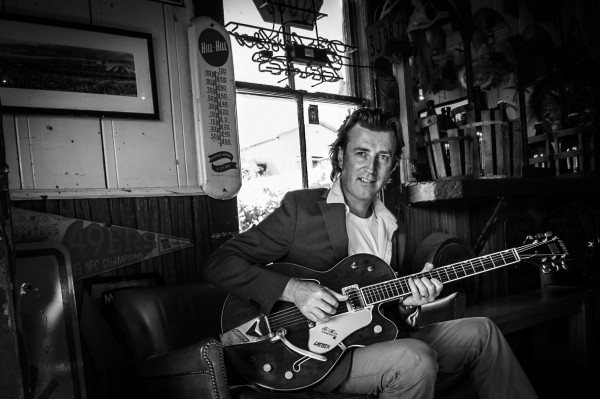 Irish born composer Kim Carroll began studying music in County Cork at the age of five and writing music at the age of nine. Today he writes and records on over 40 instruments collected from all over the world, including charango, ronroco, fretted violin, bowed guitar, prepared piano, and bowed mandolin. In many of his compositions, Carroll performs all of the instruments. He uses live instruments and employs discrete textured guitar, accompanied with acoustic and electric instruments that are manipulated through vintage analog equipment. The soul of Carroll's music reaches deep into his Irish roots, blending his musical heritage of harmony and melody with his love of fresh, innovative sound palettes, each of which evokes an emotional story that serves to elevate the film, while also propelling the story forward.
Carroll grew up immersed in music, ranging from traditional Irish pub music and Gregorian chants, to listening to his father play the piano in a local orchestra, which his grandfather conducted for 50 years. In his early teens, Carroll picked up a guitar and his music world expanded instantly. He quickly began stretching the boundaries of the instrument by exploring alternate ways of creating sounds from the guitar. This has lead to bowing, hammering and deconstructing the traditional way of playing instruments.
Carroll is a 2009 Sundance Composer Fellow and was awarded 'Gold Medal of Excellence' for the music he wrote for the thriller, 'The Colony', at the 2008 Park City Film Music Festival in Utah. He co-scored 'The Uninvited' with Harry Gregson-Williams (Shrek, Man on Fire, Narnia). Carroll also wrote the music for the critically acclaimed Sundance feature, 'The Horse Boy. His latest scores include the crime/drama 'Across The Line: The Exodus of Charlie Wright', starring Aidan Quinn, Andy Garcia and Gina Gershon, the drama/comedy "Congratulations", and the dramatic feature, 'Gone Missing'.
Throughout his career, Carroll has also lent his skills as performer, arranger and producer to other musicians, and has recorded and performed alongside some of his idols, legendary musicians, award winning artists and composers. His music credits include Sinead O'Connor, Train, SONOS, Paul Buchanan/Blue Nile and Gary Jules (#1 UK hit with the song 'Mad World' from the film Donnie Darko). Carroll's work is also featured on several soundtracks, including Chronicles of Narnia (Prince Caspian), Lincoln Lawyer, The Town, Gone, Baby,Gone, Veronica Guerin and Domino. He co-wrote an album of original music with Lisbeth Scott (vocalist on Munich, Narnia, Passion of the Christ) to be released later this year and is currently working on his own album, to be released in the spring of 2014.
Carroll studied music at UCLA and has since been invited back as a guest lecturer. He has also been invited to speak at the University of Southern California, Musician's Institute in Hollywood and Hamilton High School, Los Angeles.
Specialties: Organic approach to scoring, utilizing live instruments. Guitar/ multi-instrumental scores, Ambient Guitar/Ronroco/Charango textures incorporating some very unconventional methods.